Treat yourself to the Ghasel's Maltese Honey Body Cream
The recipe for beautiful skin? Plant extracts and natural active ingredients, of course! Discover the precious gifts of nature contained in the new Ghasel Maltese Honey Body Cream.
How to improve the condition of dry skin most effectively? Try out Ghasel!
Precious plant extracts and golden Maltese honey are the best combination for dry skin. 100% of the Ghasel's natural Maltese Honey Body Cream's power is coming from nature. Carefully selected active substances are a remedy for tired skin that lacks firmness. The composition mainly includes honey, shea butter, avocado oil, vitamin E and calendula extract. The cream is quickly absorbed, does not leave a greasy layer and thanks to vegetable glycerin, it leaves a silky feeling on the skin.
·    Maltese honey – has an antibacterial, anti-inflammatory effect, slows down aging processes, improves skin tone
·    Shea butter – deeply moisturizes, lubricates and replenishes any vitamin deficiencies
·    Avocado oil – leaves a silky feeling, regenerates, softens and soothes the skin
·    Vitamin E – helps maintain youthful, radiant skin, improves microcirculation and oxygenation
·    Calendula extract – soothes irritation and redness, works well before and after sunbathing and after depilation
Ghasel Maltese Honey Body Cream – why is it worth purchasing?
The answer is simple – this is the best way to soothe extremely dry skin, eliminate cellulite and stretch marks and get rid of flabby skin. An innovative combination of natural active substances makes Ghasel Maltese Honey Body Cream a powerful antioxidant, effectively fighting premature signs of aging. The huge content of vitamins reverses the negative effects of the degradation of collagen and elastin, which decrease with age. The honey cream stimulates their production restoring the skin's natural elasticity. It's designed for all skin types and their needs – recommended for mature and dry skin especially.
The subtle, sweet fragrance, full of floral notes, will put you in a great mood. The improvement in the skin condition can be seen already after the first use.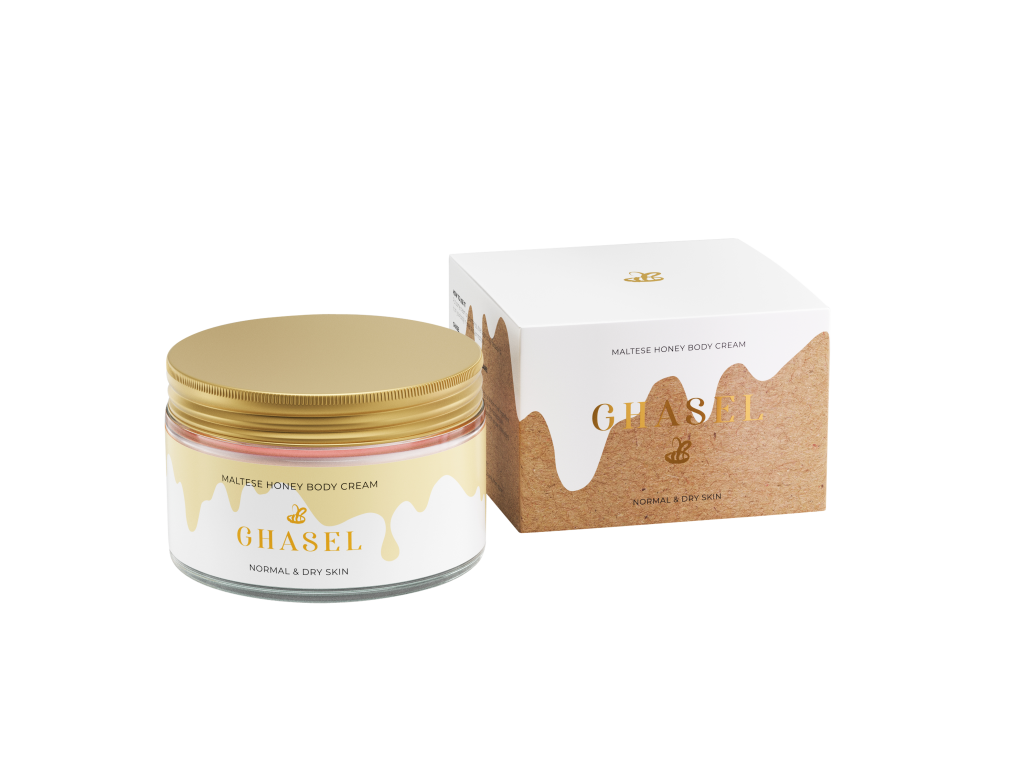 Ingredients:
Honey
Water
Shea butter (Butyrospermum Parkii Butter Extract).
Emollients: Cetearyl Alcohol, Cetearyl Glucoside
Emulsifiers: Stearic Acid, Palmitic Acid, Myristic Acid
Vegetable glycerin (Glycerin)
Avocado oil (Persea Gratissima Fruit Extract)
Natural fragrance composition (Parfum)
Vitamin B12 (Cyanocobalamin)
Calendula extract (Calendula Officinalis Flower Extract)
Marshmallow root extract (Althaea Officinalis Root Extract)
Horse chestnut extract (Aesculus Hippocastanum Seed Extract)
Vitamin E (Tocopherol)
Is your skin:
constantly dry and rough?
lacking firmness, density and elasticity?
a gray, dull color?
No worries! Put your trust in the power of natural components and let yourself be pampered with Ghasel Maltese Honey Body Cream.
Find more information about the effects and ingredients of Ghasel on the website ghasel.mt