Thermal Hair Strips For Multi-Tonal Colouring: Highlighting Foam Strips by ColorCuts
Thermal Hair Strips For Multi-Tonal Colouring: Highlighting Foam Strips by ColorCuts
Highlighting Foam Strips by ColorCuts for multi-tonal colouring make this tiresome time-consuming treatment easier for you. This latest trend in hair salons has won the hearts of both customers and professionals. This gadget cuts colouring time by up to half and has been created in tune with the zero-waste concept.
Color Cuts creates innovative hairdressing accessories to make hairdressers' work easier without harming the environment. The professional Highlighting Foam Strips are compatible with any colouring technique. They are the response to the demand of consumers and hairdressers who seek conscious and eco-friendly solutions. Newer and newer gadgets allow performing services at an ever higher level. This is what ColorCuts is all about. Get to know them better!
Highlighting Foam Strips by ColorCuts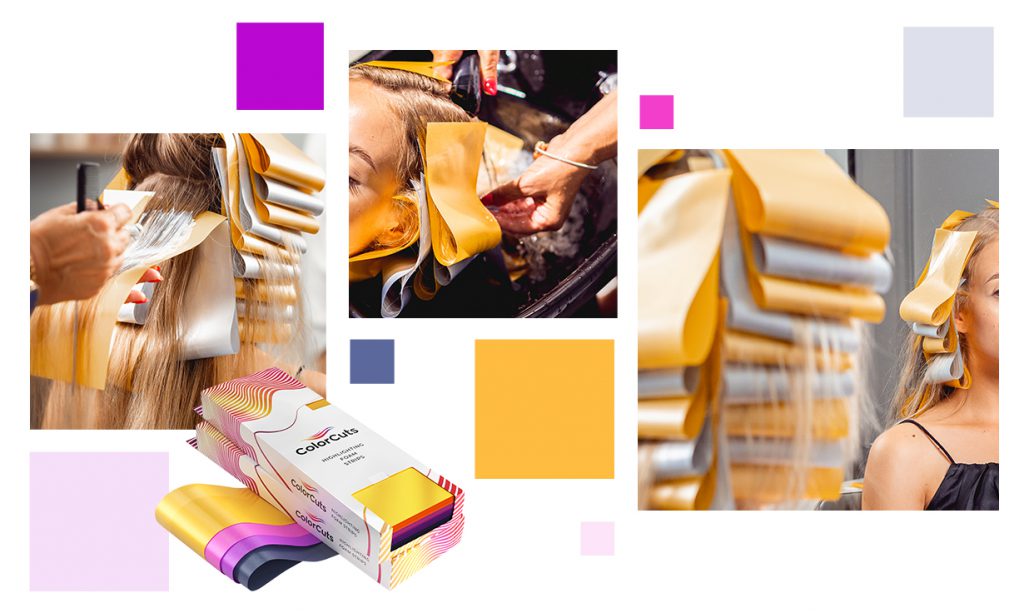 The strips are made from 80% recycled material.
The special thermal foam doesn't damage the hair, maintaining the right temperature without overheating it. The strips are reusable, you can wash them by hand or in the washing machine up to 3 times. They retain their top quality and effectiveness every time. The foam strips are recyclable and created in harmony with nature. They are the perfect replacement for impractical aluminium strips.
This professional hairdressing gadget sets you apart from the competition. Highlighting Foam Strips provide comfort and high aesthetics of the colouring procedure. They are eye-catching, practical and save you a lot of time. You can gain valuable time during the day to take on more customers.
ColorCuts strips don't slip out of your hair. They are flexible, smooth, easy to use and get a grip in contact with moisture. They are a must-have for even the most experienced hairstylist. The different colours of the strips make it easy to distinguish the shades of hair dyes used. This ensures full control over the treatment.
Why choose ColorCuts?
These extremely precise strips don't rustle or crease like traditional aluminium foil. They are flexible, light and thermal, and the convenient size makes them suitable for colouring even the longest hair. You can easily apply the colouring products even at the roots.
The reusable strips allow you to fully control the colouring process. The box contains 200 strips measuring 100×305 mm. This is a great saving and top-quality product. They also streamline the work of mobile hairdressers and experienced professionals who choose to do multi-tonal colouring in their own homes. Innovative gadgets make your salon luxurious.
The strips streamline the colouring procedure, especially for inexperienced hairdressers. Highlights can be troublesome, but with ColorCuts strips, even trainees can gain confidence. Colouring goes quickly and smoothly. Colourful strips delight your customers and make them feel special in your salon. You gain prestige and care for the environment at the same time.
Introduce comfort, convenience and aesthetics into your salon with Highlighting Foam Strips by ColorCuts. Learn more about the product: www.colorcuts.mt.
---