Nanoil hair oil – in the healthy hair tournament
Sometimes hair care resembles a game. There is you against hair damaging squad. One false move and your hair is being defeated: becomes dull, brittle, overburden, frizzy, lacks vitality and falls out…the list of damages can be very long. Before you lose the entire season, reach for a player thanks to whom your enemies will tremble. It is a hair oil called Nanoil. It is an undisputed star of the season, ensuring victory in every field. With Nanoil, you will get rid of any hair-related problems. This oil will always take the first place in the category: care and regeneration of hair.
Nanoil did not go for a compromise when creating its hair care products. The company focused on the quality and power of natural ingredients, especially oils, which have been valued for centuries as healing agents and beauty products.
But that is not where the strength of Nanoil ends. In order to defeat the enemy, you must first learn his weaknesses. Therefore, Nanoil comes in three versions, each matched to a different type of hair, in other words – its porosity.
You can distinguish three types of porosity:
low – low porosity hair have tightly bound cuticle layer with overlapping scales
medium – medium porosity hair with looser cuticle layer
high – high porosity hair has gaps and holes in the cuticle
Each of the three types of porosity follows its own rules and hair of low porosity look and behave quite differently than strands with high porosity. It is therefore logical that every type of hair requires different care and various care components.
Nanoil is adapted to each of the three types of hair porosity, thus there are three oil versions. Each of them is properly balanced and precisely developed to provide hair with exactly what it needs to grow strong, beautiful, healthy and shiny.
Furthermore, Nanoil is also the answer to every hair-related problem. It not only nourishes and beautifies, but also deeply regenerates. Day after day, Nanoil makes your hair problems disappear. How is it possible? To explain it, a brief description of each of the 3 Nanoil hair oils will be necessary.
Hair oils Nanoil – team presentation:
1. Nanoil for low porosity hair
This type of hair needs, most of all, light substances which will not weigh it down. Low porosity strands are thick and stiff, lack volume, scalp often produces excessive amount of sebum as it is covered with a heavy layer of hair. Too long and heavy hair with low porosity may begin to fall out excessively. That is why it is important to provide proper care not only to hair, but also scalp. Nanoil is free of silicones, parabens and other comedogenic substances. It not only enhances hair and makes it soft, but also takes care of the scalp regeneration leaving it clean and groomed. As a result, strands are lifted and gain volume.
2. Nanoil for medium porosity hair.
This type of hair needs to have a little more support during treatment. The cuticles of medium porosity hair are raised, thanks to which strands easily absorb conditioning agents, as well as toxins and pollutants. You must pay attention to what you use for nourishing such kind of hair, because inadequate care can cause more harm than good. Medium porosity strands can be very dehydrated, frizzy and static as well as fall out and become dull if not provided with the components they need. Nanoil comprises a set of fatty acids of omega-7 and omega-9 group, and a range of substances that enhance the effects of oils. Undoubtedly, the most important are: silk (beautifies and enhances the flexibility of hair) and UV filter that protects hair from harmful effects of the sun radiation.
3. Nanoil for high porosity hair
This type of hair is extremely damaged and requires intensive regeneration. Its scales are raised up very high, therefore hair looses water and becomes dehydrated, rough and dull. Strands loose their strength, vitality and brilliance. Nanoil is a great remedy for such problems. The product will not only regenerate hair on its entire length by repairing damages on the surface but will also take care of proper level of scalp and hair hydration and strengthen bulbs. Hair regain good health. What is more – appropriately selected natural oils will protect hair by forming a microscopic occlusive layer that will shield strands from destruction. The composition of Nanoil for high porosity hair also consists of: panthenol, keratin, lanolin, silk and UV filter. All these ingredients support the action of natural oils, providing hair with lustre, softness, elasticity, regeneration and protection from the sun.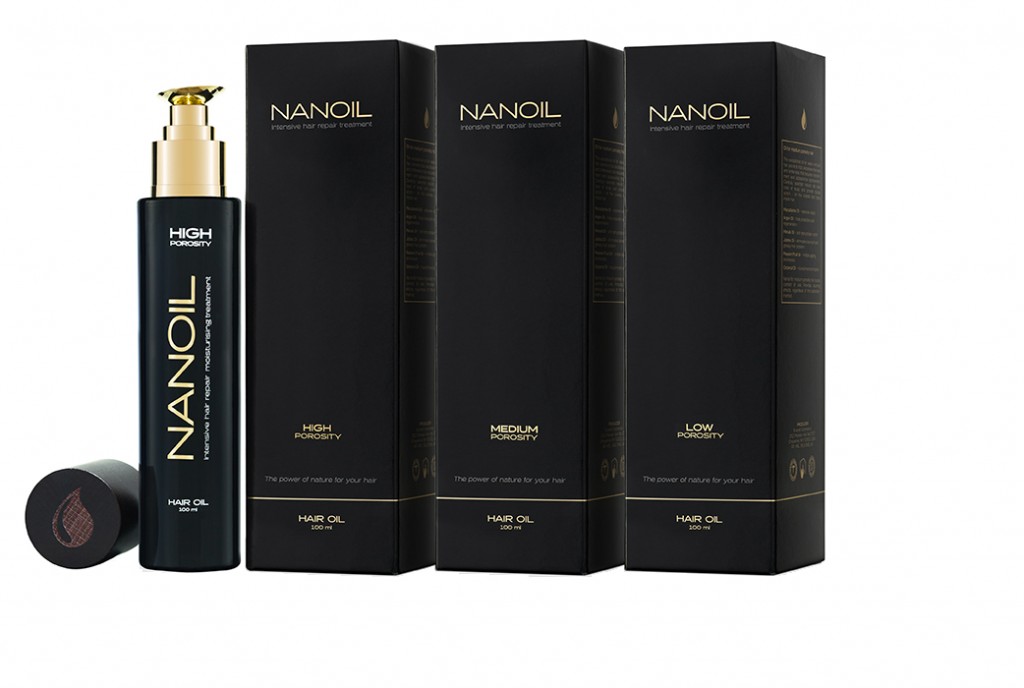 Nanoil is a player of the best world league. It fulfils your dreams of having absolutely beautiful and healthy hair from roots to ends. All you need to do is to choose the best player who will lead you to victory.