Permanently black eyelashes. How is eyelash tinting performed?
Morning battle with a mascara often ends up in failure. When we apply it in a rush, we get smudges and spider-leg lashes. Eyelash tinting is recommended as a solution to the problem. Learn about its strengths and downsides.

When somebody tells us that our appearance also affects our self-esteem, we don't want to accept it. After all, it is possible to be happy and feel good about one's looks even without a perfect make-up and intensely black and defined eyelashes. But you must have noticed that you feel better and more beautiful any time you visit a hairdresser or beautician. Eyelash tinting is enough to boost our self-confidence, especially when we run out of time for applying a mascara every day.
WHAT IS EYELASH TINTING?
Treatments that are performed every few months are becoming more and more popular among women. We replace regular make-up with the one that doesn't need to be washed down. Eyelash tinting is another face beautifying method. The effect is defined eyelashes. This method is often confused with eyelash extension or henna. Let us clear that up.
Eyelash tinting and henna
Henna is commonly used when we want to enhance the colour of our lashes. It is a totally natural colourant but it is also washed away very quickly. The effect may disappear within a few days because of an every-day make-up removal. Eyelash tinting involves a dye that penetrates deep inside the hair structure and lasts longer. You keep the darker shade of lashes even up to 6-8 weeks.
Eyelash tinting and eyelash extension
Although both treatments are completely different, they are also mixed up. Eyelash extension involves changing the length and density of lashes through glueing false eyelashes. On the other hand, we work on natural lashes in eyelash tinting and change their colour; there is no extension or thickening. Instead of a synthetic glue, we use a dye.
Eyelash tinting – step by step
Eyelash tinting is performed in beauty salons. Applicators and proper dyes are used to darken the natural colour of eyelashes. The treatment lasts more or less 30-60 minutes yet it may extend for various reasons. Stickers are placed over the eyelids to protect eyelashes and then layers of permanent mascara are applied. During the procedure, lashes are thoroughly combed out and cleansed. The dye is applied at least several times for deeper and long lasting effect. Tinting is a bit similar to traditional mascara coating. A waterproof dye and revitalising serum are applied to hairs. Depending on the product, the effect can be very subtle or very strong.
EYELASH TINTING – ADVANTAGES:
No need for daily application of mascara.
Dyes are waterproof, therefore effects are long-lasting.
We can achieve various effects – ranging from natural to expressive.
Ideal for women who don't like or don't know how to put on make-up.
EYELASH TINTING – DISADVANTAGES:
No curling, lengthening or thickening.
Dyes may cause allergic reactions.
Effect isn't permanent; it lasts more or less six weeks.
Regularly done eyelash tinting can weaken and damage the lashes.
For most striking effects, it should be accompanied by eyelash extension.
You must avoid high temperatures, oil-based products, etc. Otherwise, the colour of tinted lashes will fade and discolour.
Effects are barely visible in case of thin and short lashes.
You must avoid contact with water for at least 48 hours after the treatment.
It is not recommended for people who suffer from eye or skin diseases, allergies.
You can see light roots after some time.
Regrettably, the downsides outweigh the benefits. That is why, eyelash tinting is not recommended so often yet offered by many salons. Its price is much higher than the price of a good quality mascara. It does not pay off to give that much for the effects which are not permanent. There's no point in exposing oneself to side effects. Is there a different way of darkening the eyelashes? Regular application of eyelash serum is our choice.
EYELASH SERUM VS EYELASH TINTING
What can an eyelash serum offer that is better than eyelash tinting?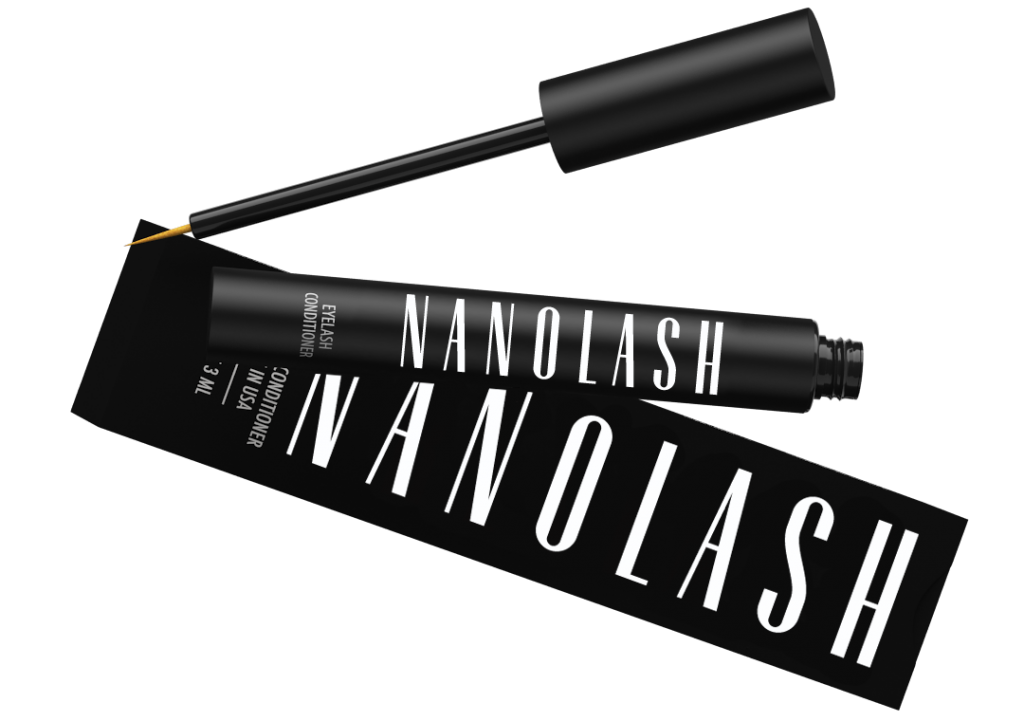 First of all, total make-over. A high quality serum (e.g. Nanolash eyelash and eyebrow serum) darkens and emphasizes natural colour of your lashes as well as thickens them from roots to tips, speeds up their growth, delivers shine and elasticity. After a few weeks of regular treatment, you can enjoy maximum extension, curl and volume. Eyelash tinting only affects the colour. Although you must wait to see the effects provided by Nanolash eyelash and eyebrow serum, they last even six months or more.
Second of all, quicker application, cheaper treatment. The price of one Nanolash bottle is similar to the price of one eyelash tinting treatment. One thing is crucial. The serum is enough for a few months of treatment whereas the effects of eyelash tinting vanish after a few weeks. We must devote at least one afternoon every few weeks if we want to have the lashes tinted. The serum is less absorbing. Clear Nanolash serum is applied to the lash line with a thin brush, every evening after removing make-up. It is quick and easy. It becomes automatic after a few days.