Argan Oil from Nanoil is Women's Favorite. Check Out Why It Sells Out!
Argan oil, labeled liquid gold of Morocco, still enjoys great popularity and has become one of the most wanted oils for beauty routine. Beauty brands keep competing, trying to upgrade the formulas, fragrance composition or packaging. What if we chose a top-quality, highly-effective and pure oil? Nanoil released argan oil which addresses the needs of all beauty freaks, vegans and those with sensitive or problematic skin. Check out why women from all world corners have fallen in love with Nanoil Argan Oil.
What is argan oil?
The name 'liquid gold' stands for gold-colored oil which smells of nuts and is extracted from oil-rich fruits of Argania spinosa, which is an Argan tree. This evergreen, long-lived plant naturally grows in Morocco and it's included on the list of the UNESCO Biosphere Reserves. This oil-giving plant has been known to Moroccans since ancient times, and is labeled the tree of life.
Argan nuts have the shape of small plums or olives and are yellow or greenish. Inside, there are oil-rich seeds that are the size of sunflower seeds, and are used for extraction of the valuable oil. Moroccan women have been using traditional methods to extract the oil and used it for medical and beauty purposes for ages. The good old skin and hair care methods are still used yet they are slightly modified to fit the modern world.
Nanoil Argan Oil – the best argan oil on the market?
Composition: unrefined, cold-pressed argan oil
INCI: 100 percent pure Argania Spinosa Kernel Oil
Size: 50 ml
Nanoil is an expert in making natural beauty products which are priceless these days and most wanted. More and more consumers choose eco-friendly cosmetics. Because Nanoil's beauty oils are 100 percent organic and have a quality mark from ECOCERT, it's no wonder they're women's top choice. Minimalist design, glass bottle and organic formulas – that's what beauty freaks are big on.
Nanoil Argan Oil is packed with over 100 active ingredients and it's a potent antioxidant. It is a rich source of essential fatty acids: oleic acid (omega-9), linoleic acid (omega-6) or stearic acid. It is also high in vitamin E which is one of the most potent antioxidants, counteracting free radicals and protecting skin cells from oxidative stress. Nanoil Argan Oil is also rich in carotenoids, squalane, and it's a natural sunscreen.
As the manufacturer puts it, Nanoil argan oil is a fully natural oil that has been obtained through cold-pressing, is unrefined and 100 percent organic – thanks to that each drop contains pure essence of what's best in fresh argan nuts. And it really is one of the best beauty oils available on the market – that's confirmed by glowing reviews.
On top of that, the oil comes in a glass and comfortable-to-use dropper bottle with a wooden end – cherry on top!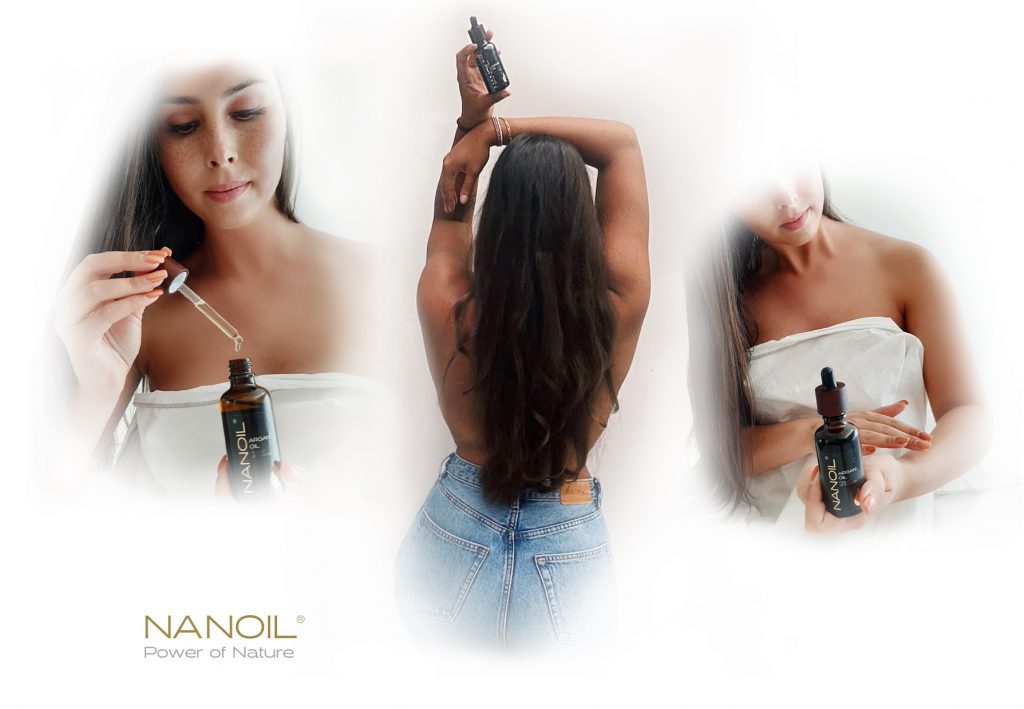 Benefits of Nanoil argan oil for beauty
It acts as many cosmetics: face serum, body lotion, hair conditioner and mask, scalp treatment.
It moisturizes the skin and protects it against external conditions.
It strengthens damaged hair and makes it shine.
It protects strands from heat, frost, frizz or sun.
It speeds up growth of hair, lashes and brows and thickens them.
It smooths expression lines.
It tightens the skin and adds elasticity.
It is good for all types of skin and hair porosity.
It is safe, hypoallergenic and non-irritating.
It protects the skin and hair from UV rays.
Best ways for using Nanoil Argan Oil
ON HAIR: Nanoil goes well with all hair types. Use it on the lengths and massage it into the scalp. It will save dry and damp hair from breakage. It is also an excellent serum for brittle hair ends.
ON BODY: Use the oil regularly for body massage and rub it into the skin to get rid of cellulite or stretch marks. You can use it instead of a body lotion or oil for sunbathing. Adding a few drops to a body cream is a terrific idea.
ON FACE SKIN: Nanoil Argan Oil measures up to many pricey hydrating face serums. Because it displays strong antiaging properties, it will help your skin get back lost plumpness and youthful glow. Use it directly on the skin or mix it with other oil, moisturizer or face mask.
ON EYEBROWS AND EYELASHES: A highly effective and safe eyelash and eyebrow serum? Use argan oil! Regularly applied on the tiny hairs, it produces first effects within just thirty days: eyebrows get darker, thicker and more shiny while eyelashes are longer and have a lovely curl. You don't need to spend a fortune on popular serums if you get yourself Nanoil Argan Oil.
ON HANDS AND FEET: With Nanoil's argan oil, you can say goodbye to dry skin on feet, cracked heels or crazy-dry hands. The oil will also strengthen your nails and soften the cuticles.