Nanoil Keratin Hair Mask Review: Rescue for Frazzled Hair
Dehydrated, frazzled and dull hair needs to be treated carefully. It also needs to be given special attention. Treatments for dry hair are often gruelling, thus beauty brands are continuously trying to come up with new solutions that would make it easier for us to reverse damage in hair. One of such cosmetics that is advertised for being able to rescue frazzled and over-processed hair is Nanoil Keratin Hair Mask. What is it made from? How often do you have to use it to see a difference? Will it deprive hair of volume? Keep reading to find out.
There are many good words said about Nanoil and its keratin hair mask. Both regular users and professionals agree that this is one of the best keratin-infused hair masks on the market. But is this a cosmetic that could replace expensive and professional in-salon treatments? Is it that good? You'll find this out in a moment.
Nanoil Keratin Hair Mask. How often should it be used?
On the official website you can read that Nanoil Keratin Hair Mask should be used at least once a week, but over-processed and frazzled hair may need to be exposed to keratin treatment more often. For that reason, we suggest the following:
healthy hair – use Nanoil mask once a week
damaged hair – use Nanoil mask more than once a week, you can do it even after each shampooing
View this post on Instagram
Nanoil Keratin Hair Mask. How to use it?
The technique of using keratin hair mask by Nanoil is simple and consists of just three easy-to-follow steps.
Wash the hair with a shampoo and rinse with lukewarm water.
Remove excess water from the hair using a soft towel and spread Nanoil keratin mask.
Let it do its magic for 15 minutes and rinse with lukewarm water.
OPTIONALLY: If you want to, after applying the mask, you can use a comb and run it through hair to distribute the mask evenly.

Nanoil Keratin Hair Mask. Will it strip the hair off volume?
Owing to the well-selected ingredients and the right consistency, Nanoil keratin mask is not expected to reduce volume of hair. No matter if you let the mask sit for 10 or 20 minutes, once you rinse it, you will see how soft and good-looking your strands become. It even doesn't matter if you put Nanoil Keratin Hair Mask on fine, thick, curly or straight hair – if it needs repair, Nanoil keratin mask will handle this task.
Nanoil Keratin Hair Mask. Results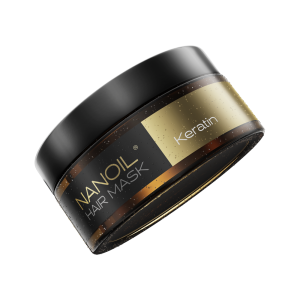 Some users claim that they saw a difference – e.g. shinier and softer hair – after just one use. But when applied regularly, the effects of Nanoil home keratin treatment are stronger and last longer. If you introduce Nanoil Keratin Hair Mask to your hair regimen, soon you will see the following results:
shiny hair
moisturized hair
nourished hair
smoother hair
easy-to-style hair
damage-resistant hair
beautiful and healthy hair
If you fancy learning more about Nanoil Keratin Hair Mask, we suggest visiting [nanoil.co.uk].