A boost of energy from GHASEL Maltese Honey Face Moisturiser
A boost of energy from GHASEL Maltese Honey Face Moisturiser
Is your skin flabby, dry or lackluster? The GHASEL brand has prepared for you a moisturizing face cream for day and night. Its most important ingredient is the sweetest Maltese honey.
The moisturizing properties of GHASEL cream are due to specially selected ingredients, which are an elixir of youth for your skin. It is an ideal cosmetic for all skin types, as it easily adapts to the given conditions. Perfect for both morning and evening care.
GHASEL Maltese Honey Face Moisturiser
This is a boost for tired complexions. Maltese honey combined with plant extracts, vitamins and oils offers a powerful serving of hydration. Regular use of the cream contributes to increasing the skin's defense capabilities, as it will not be intimidated by free radicals, smog, heat, frost or UVA/UVB radiation.
The refined formula of Maltese Honey Face Moisturiser strengthens the condition of the skin and improves its appearance. The combination of unique ingredients energizes the skin, gives it radiance and slows down the aging process, restoring vitality and natural radiance.
Free of artificial colors, preservatives and GMOs
You won't find anything unnecessary here. With GHASEL Maltese Honey Face Moisturiser, you will gain 24 hours of continuous hydration, high protection against external factors, soothe your skin, rejuvenate, smooth and tighten, as well as add energy to it and make sure it's in its best condition. Anti-aging properties slow down the skin's aging process, smoothing out fine lines and preventing the appearance of further wrinkles.
Ideal for tired, dry, lackluster skin that struggles with dehydration. It will also work well on: oily, combination, normal, vascular or sensitive skin.
Composition of the unique Maltese Honey Face Moisturiser
Maltese honey
An ingredient with a powerful moisturizing effect. Sweet honey straight from Malta cares for the youthful appearance of the skin, gives it energy and vitality. It has an antibacterial effect and works well on dry, sensitive and allergy-prone skin. it also strengthens the elasticity and firmness of the skin.
Shea butter
Shea butter is a portion of hydration for extremely dry skin. It supports the regenerative processes of oily, combination and acne-prone skin, as it helps get rid of skin lesions. Stimulates the production of collagen and elastin, which are responsible for the youthful appearance of the skin. It smoothes out wrinkles and fine lines, as well.
Caffeine
An ingredient that stimulates the skin, giving it energy. It makes the blood circulate faster and the complexion looks fresh and radiant. It is a natural UV filter that effectively fights free radicals. Caffeine also eliminates signs of fatigue.
Plant extracts
Green tea and sage tone and cleanse the skin. They have regenerative properties, inhibit inflammation and improve skin tone. Both of these plant extracts reduce wrinkles, inhibit the formation of blackheads and excessive sebum secretion. They strengthen blood vessels, making the skin more resistant to external factors.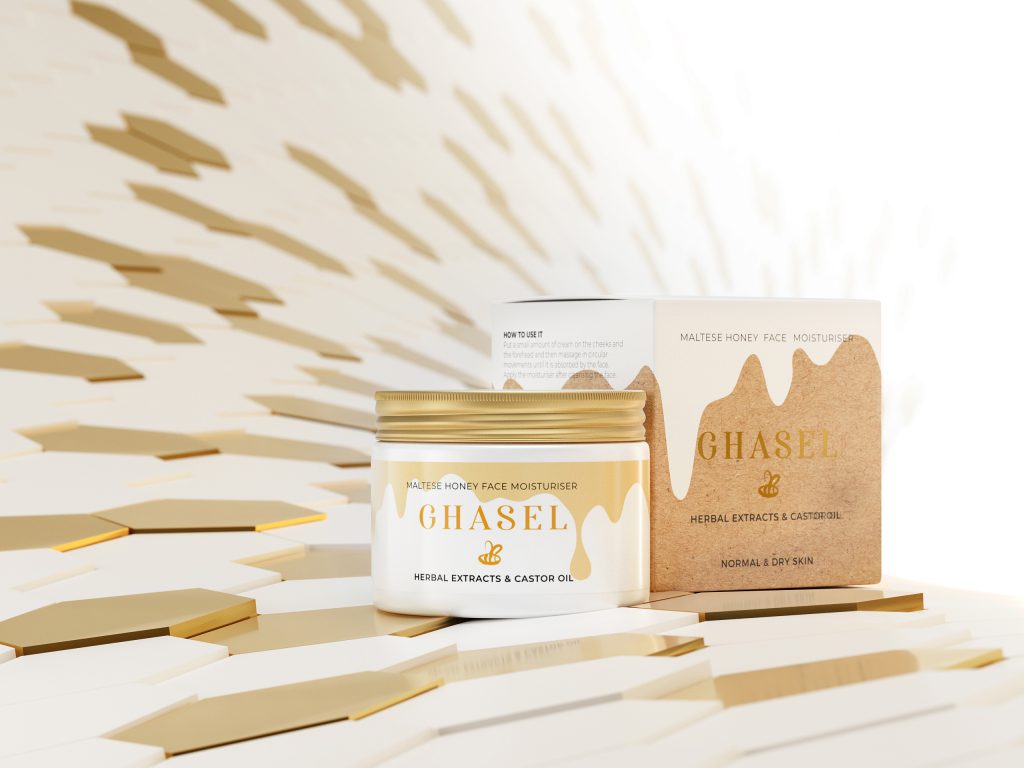 The unique, highly moisturizing face cream with Maltese honey is a relief for dry, tired skin and a powerful dose of energy. No more vitality-deprived, dull complexion! This is a great cream with a light texture. It absorbs quickly, smells beautifully and is gentle. Maltese Honey Face Moisturiser quickly eliminates redness and strongly nourishes the skin. Learn more about the product: www.ghasel.mt.
---